eCampus User Experience: Why will someone use eCampus, Did learning experience meet their expectations. How has eCampus improve their learning?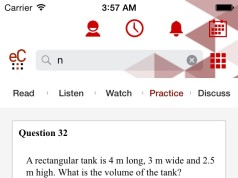 1. Download the eCampus App from App Stores (Android | Blackberry | iOS | Windows ) or use the Web App  2. Create a user account and select your preferred group ( Junior High School...
At eCampus, we reduce the time from learning to employment by bringing the classroom to the student. eCampus is built on a cloud and mobile technology interface. eCampus proposes to significantly increase a student's...